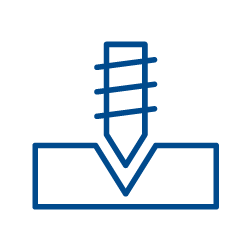 Rolling
During this stage a thread is created for the screw to screw in. The stage is crucial for the production of a screw since it establishes the values of the stem and the screw tip.
Visaf mainly deals with metric threads, although other types can be produced such as self-tapping screws, based on the customer's needs.
Do you need a customized product?
Thanks to its experienced staff and the use of the best technology, Visaf can produce cold formed screws in accordance with your requirements.